'Paris is no longer Paris'. I constantly hear this in recent years. Media always shows how Paris has changed during the past few years. And these changes are not positive at all. YouTubers became crazy about no-go areas of Paris. Is this really true?
In this post, I will share my own story, my own vision of the city of Paris. Also, I want to give you some advice on how to spend time in Paris, to actually become a Parisien(ne) and avoid the negative sides of the city.
Paris
This city is special to me. Probably everyone can say this, but Paris was one of those cities that opened for me the world of art. I've been to Paris just a couple of days and was afraid of getting disappointed. Today, Paris has a complicated reputation. Surprisingly, I had a real Parisian experience I always dreamed of.
Day 1
I came to Paris very early. So, my visit to Paris has started at 6.30 am, I guess. I took a night bus from Luxembourg (never do this!). Next time I will take a train, as the trip to Paris by bus was too exhausted, overcrowded, and had a transfer at 3 a.m. I heard that Nord de Gare (train station) is one of the most dangerous places in Paris. It's not that bad.
The train/bus station at Bercy metro station seemed nice to me. You can find there some cafes, and the Outlet Village is not far from there.
Firstly, I wanted to visit in Paris is the Eiffel Tower. So, at 8 a.m. I went straight to Champ de Mars metro station. My first impression was – it's a huge 'rusty iron pipe'. I know that it sounds weird as we all think that Eiffel Tower is one of the most beautiful constructions of our time …but if I didn't know that this is a famous tower, I could have this 'eh' first impression.
After all, in the evening and from a distance ET is wonderful!
Where did I stay?
I rent an apartment near the Montparnasse Tower. The highest building in Paris, so I actually saw this building from any part of the city. Good advice: rent your Paris accommodation not far from the Montparnasse and you will never get lost. My walk from ET to my apartment was very 'Parisian like'. I was passing through the streets where I could smell a fresh-baked Baguettes and observe local Parisians starting their day.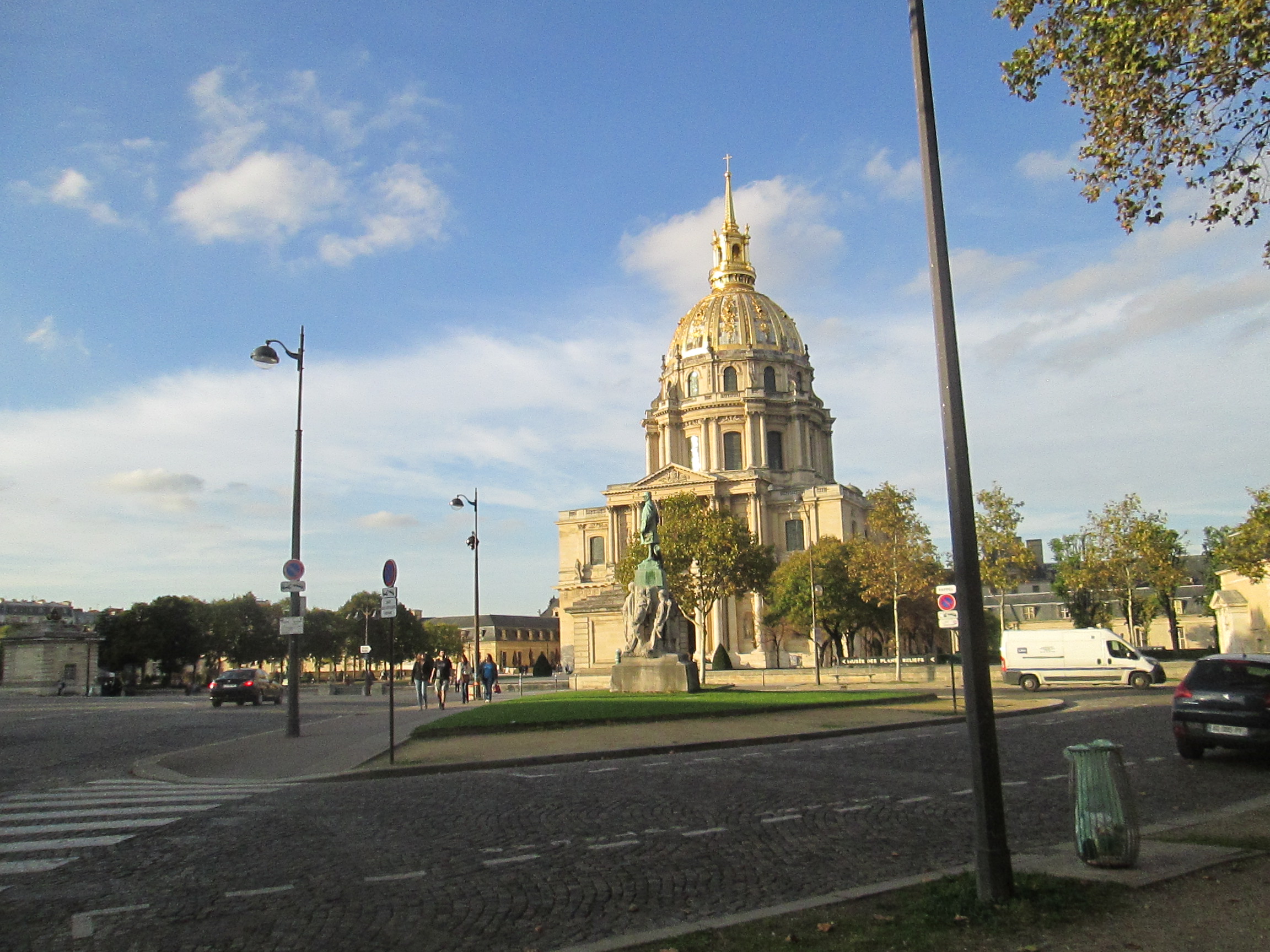 Airbnb Old-Fashioned Studio On The Top Floor of Paris
I wanted to rent a small studio or so-called kitchenette. The apartment should be not far from the centre in that traditional grey-sophisticated Paris apartments. I used Airbnb and was really happy about it.
I started to search for cheap hotels in Paris, and after long research, I understood that Paris is not a place for cheap hotel search. A bed in a hostel may cost 30-50 euro, and hotel room is about 80 euro per night. It's not that cheap, so I really advise you to rent an apartment or room in Paris.
Sorry for the bad quality of the pictures, but I am trying to be honest. These are photos of my apartment.
Airbnb Apartment Impressions
First, you will live like a local. Wake up in the morning, cook breakfast in my Parisien kitchen or go downstairs for my coffee+croissant (I know French don't do it, but anyway). I could talk to my neighbours and know more about the real Paris.
Second, you are not going to spend more money on food as you can cook at home. I spent just 25 euros in three days, while in the cafe you'll spend at least 10 euros per simple meal.
And, you can live in a non-touristic place together with locals or, in the historical part of the city.
So, my apartment was 5 minutes walk from the Montparnasse Tower. It means you will never get lost as you see it from any part of the city.
3 min walk from Parc de Luxembourg, 40 min wall from Eiffel Tour, 20 min walk from Notre Dame and approximately 40 min walk from Champs Elysees. There is a bus stop and Metro just in front of the house.
The area was lovely…
The area is very safe, vibrant, and very Parisienne. You will get everything you've been dreaming about for a long time. A smell of freshly baked baguette in the morning, traditional Paris bistro cafes on the streets, small boutiques, small talks of the local sophisticated Parisians.
What is great in this area, you can easily do shopping before having a walk around Paris, and carry all your stuff to your room straight away. There is a Gallery Lafayette and shopping streets nearby. Also, I had a supermarket not far.
The studio itself is an old-fashioned communal apartment. In the past, such rooms on the roofs were occupied by servants, and today by students and tourists. The room was pretty small, but cosy and neat, with small kitchen equipment, bathroom and an incredible view on Eiffel Tour.
So, don't search for cheap hotels in Paris, rent a room or apartment by such services like Airbnb*, or HomeAway*, as you will live like a local and save on food in cafes.
Food in Paris
Oh la la! Everything you heard about French food is right! Near my apartment, I saw some restaurants with 1 euro oysters, brasseries with incredible bakery and small candy shops.
I didn't have time to visit cafes, and I just bought a baguette with Camembert, and Fuet (Spanish sausage).
In my opinion, Paris is the best place to stay fit. I understand why French people always look great, and I've never seen any overweight person. I am not blaming anyone for anything, we all have different bodies and different beauty types, but if you want to lose weight fast, don't go to a gym, go to Paris! You know, I will make a separate article on Paris Diet! So, don't miss my next posts.
My food choice laid on cheese, bakery, some Spanish sausages like Jamon and Fuet, and Italian ravioli. Also, I bought French yoghurt with chocolate candies. It all cost me just 25 euro, so in three days I spent around 25 euro.
My first day I dedicated to the area where I stayed in, shopping, and Eiffel Tour. I was too tired as my night travel by bus was hard.
So, after walking around my area, I decided to make shopping. As I mentioned, Montparnasse is very similar to London's Oxford Street.
Shopping in Paris
I will make a separate article on what I bought in Paris, but now I want to describe to you the 'process'. Montparnasse is a perfect place for shopping, where you can find small local shops, mass-market brands, some malls, and even Gallery Lafayette. I was looking for something Parisienne, something sophisticated but affordable. And, I found French mass-market brand Morgan De Toi*. I've never heard about them but found exactly what I was searching for. Their clothing and accessories are inspired by the French spirit with some trendy notes. In my next articles, I will share with you my purchases! For me, it was important to 'catch' the Paris style, and Morgan De Toi definitely made my dream come true.
In Paris, you can't pass by Parfums store, I chose Mon Paris by Yves Saint Laurent*, and this is the best perfume I've ever 'smell'. The same I can say about beauty products. Highly recommended.
Note: I don't work with any of these brands, and all recommendations are made to share with you my shopping experience.
Eiffel Tour
During my first day in Paris, I decided to spend time as a local, going shopping, doing grocery shopping, walking around the area where I lived and have some rest in my Paris apartment. But, I couldn't miss the Eiffel Tour evening show. Show itself was great, but I don't advise you to spend much time on ET, nothing interesting around there, and the area is a little bit dangerous in the evening for some reasons and some people.
I finished my first day observing the sparkling Eiffel Tour from my window and drinking tea with a baguette!
Day 2
Can you imagine…Morning. You see this view from your window…
Coffee, a French cheese with baguette, and some chocolate from a local Paris store. And, the whole day you are going to walk across Paris. What a day! I started my day with 'a la Parisienne' breakfast, enjoying the view from the window.
Then, I began my walk from the Parc de Luxembourg, which was just a few mins walk from my apartment. It was morning time, the park was almost empty and had a mysterious smog. If you don't have time for Versailles, visit this mini version of it.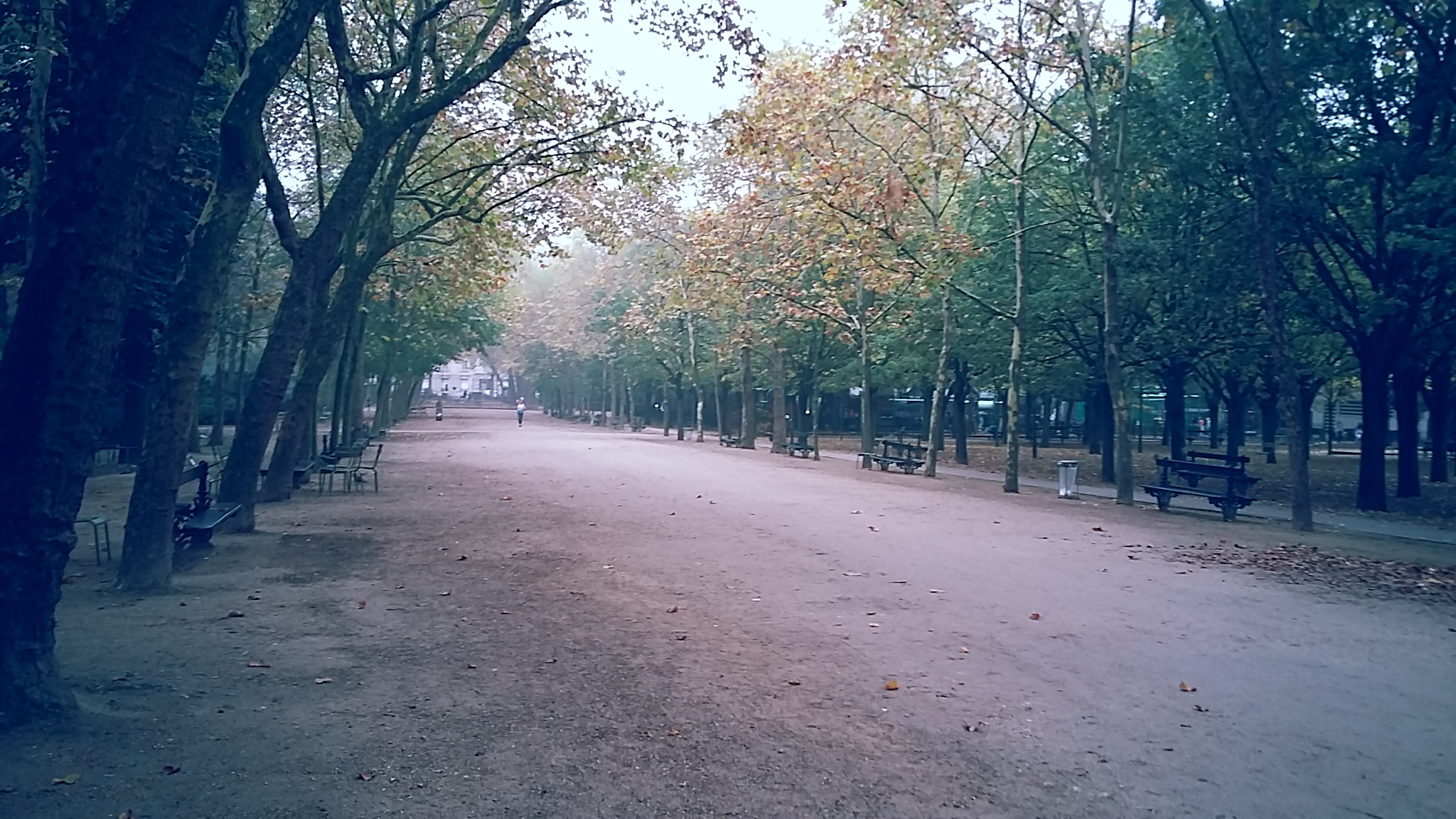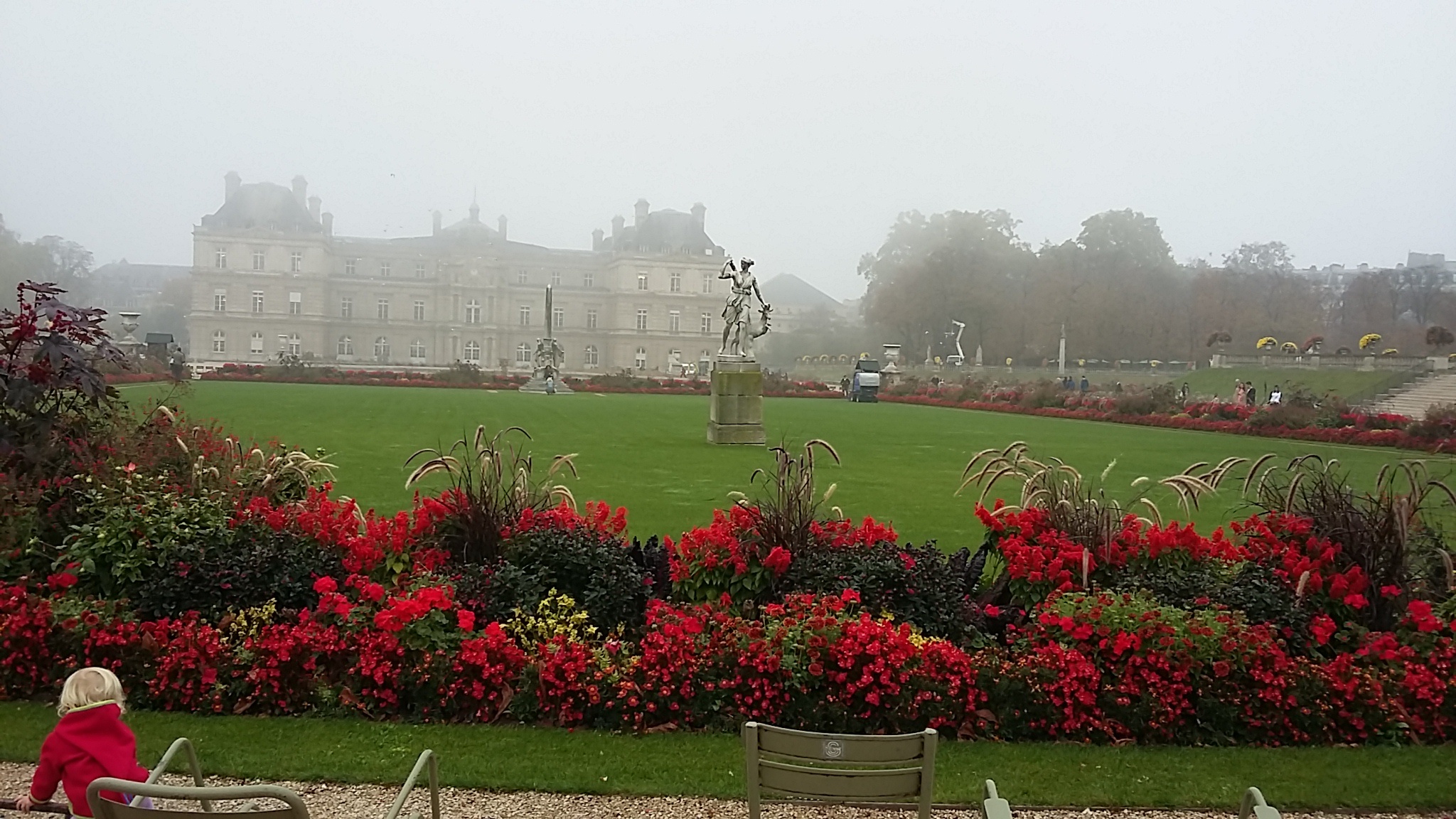 The road to the central part of Paris, Champs-Elysees, was through passing Sorbonne. The area is really sophisticated, one of the best places to visit in Paris.
Just 10 minutes walk and you pass famous Notre Dame. Sometimes you visit famous places and disappoint, but in the case of Notre Dame, it seemed to be more impressive than I've ever thought. Walking around Notre Dame, I turned to a beautiful river Seine. Surprisingly, there were not many people there, so you can easily have a personal picnic on the riverside.
I can't describe in words the way I felt while walking by the river Seine in Paris. It was the real Paris from my imagination. Paris seemed to be relaxing, sophisticated, and aesthetic. Every part of it (at least the central part) is a piece of art. What interesting, Paris is dynamic but not busy, the whole city is calm and relaxing, really good place to calm down but, at the same time, full of things to do.
The area of Centre Pompidou was completely different. It has its own vibe, modern and a little bit hipster. And, even luxury, but art luxury. In Paris, luxury doesn't mean something snobbish, or vain. Paris has a luxury spirit, and each piece of it is sophisticated.
The end of the first part of the day ended in Champs-Elysees, where I took a train to Montmartre.
When you come to Champs-Elysees, you see the most luxurious part of Paris. Chanel and Louis Vuitton boutiques seem something common there.
Montmartre
First what I remember climbing the stairs of the Metro is a 'Metropolitan' title.
And, then, upstairs you see Moulin Rouge! But the area nearby is not impressive. The area is dynamic, but a little bit dirty. And, surprisingly not so busy in the evening. Moulin Rouge itself is fantastic!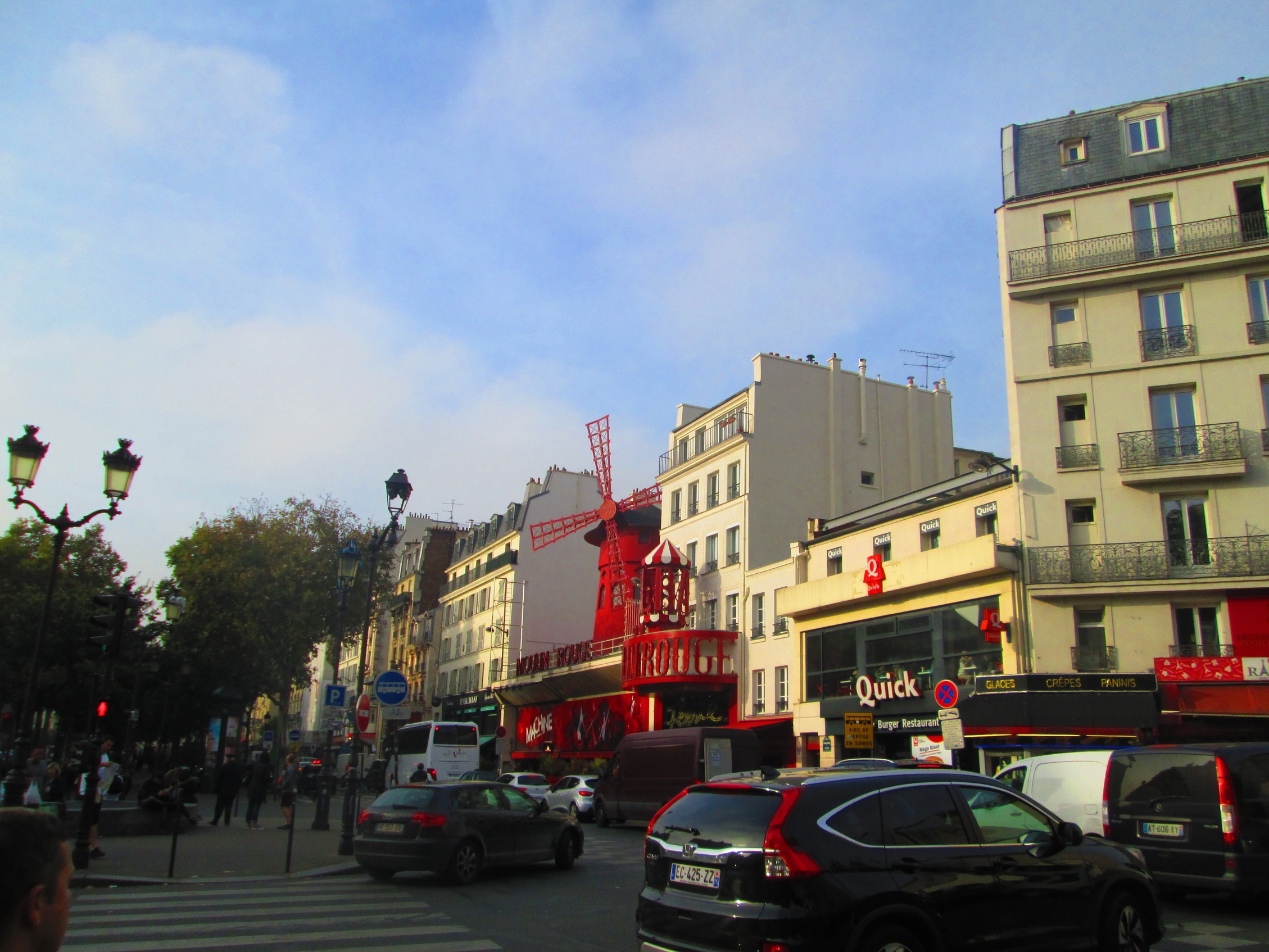 Just 30 min walk and I was in the area of Sacre-Coeur. The view is lovely there, and if you climb upstairs you will get to the creative area where you can purchase art from local artists.
Montmartre impressions…
In conclusion, the area of Montmartre is lovely, but it seemed a little bit fake. Touristic area, and all trying to get something from them imposing things that used to be 'Parisienne'. Despite the area is touristic, Montmartre still has bohemian chic.
I ended my Paris tour watching beautiful night lights at Sacre-Coeur. At Montmartre, I took a bus to Louvre and had an incredible night walk from Louvre to my apartment passing the Seine.
The day ended with a glass of French wine and Italian meal at home.
I shared with you general information about Paris and didn't mention some new places to visit in Paris. If you want to avoid the negative side of Paris, find a good apartment, spend money on it, and choose a safe place.
Paris didn't disappoint me. And, I will come back to explore more!
Check my next upcoming articles on Paris. I will share what I bought in Paris, and 'Paris diet'.
Subscribe on social media and email list to get arty and travel updates, as well as get 5% off the Shop (yes, we have a Creative Shop)!